Partner Brands
Partner Brands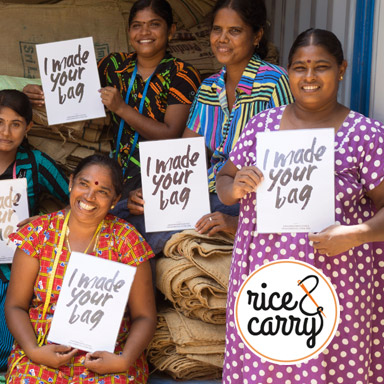 Rice & Carry: Sustainable Cooperation With Sri Lanka
A flourishing cooperation for the common cause – this best describes what connects FAIR SQUARED and Rice & Carry. The story begins in spring 2019 when two people from FAIR SQUARED and FAIR ZONE went on a business trip to Sri Lanka. Having become aware of the Rice & Carry project in advance, Oliver and Eldad made their way to the East Coast to meet the founding couple.
Making change happen – together
We knew very soon that we wanted to somehow work together with Henry and Susi. After all, the two company founders, who had already lived on the beautiful east coast of Sri Lanka for several years, also pursued the vision of combining fair working conditions with ecological added value. Since 2019, Rice & Carry has been officially fair: the initiative became a member of the World Fair Trade Organization (WFTO).
Upcycling instead of litter: FAIR ZONE meets Rice & Carry
Everything sold under the Rice & Carry label has its origin in used-to-be-single-use products such as discarded rice bags or lids from collected plastic bottles. Like that we give things a new purpose and actively counteract the volume of waste. That is how the FAIR ZONE products created from recycled saris and other sustainable things were developed, which we would like to offer you exclusively in our webshop.
---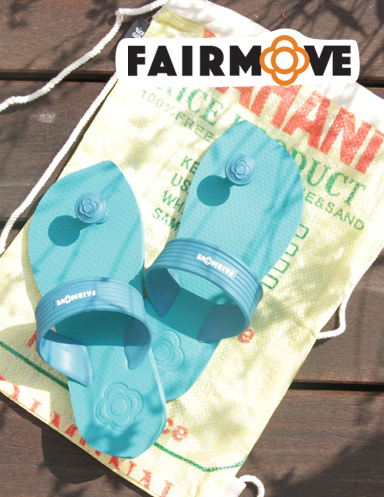 FAIRMOVE – trendy and fair leisure articles
Leisure, sports and mental fitness – the FAIRMOVE brand combines all of these with its products. A bit spiritual, a bit back to the roots and certainly fair to the producers. The newly founded lifestyle brand is aimed at all those who are looking for some me-time between backpacking, surfing and mindfulness exercises.
Yoga mats, flip-flops and more for your active lifestyle
The probably first yoga mat made of 100 % natural fair trade latex is just as much an integral part of the range as the eponymous FAIRMOVE flip flops. They are also made of the renewable, fair-trade material and promise a particularly high level of wearing comfort.
---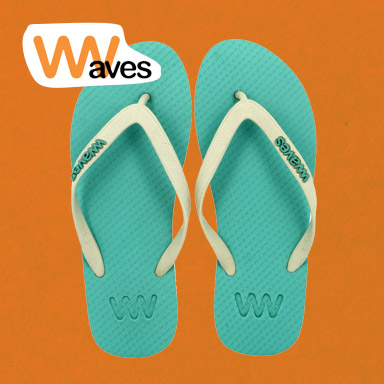 WAVES: Flip-Flops made in Sri Lanka
Between endless relaxation on Sri Lanka's picturesque beach and upscale city life – this is exactly where you find the WAVES brand.
Let's do it fair!
Because the sandal classics with their colourful design fit perfectly into our assortment, we had them made of fair trade natural rubber. The result is a wide variety of colourful models, which we are happy to offer you!